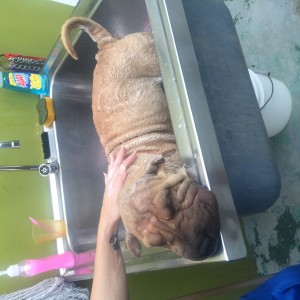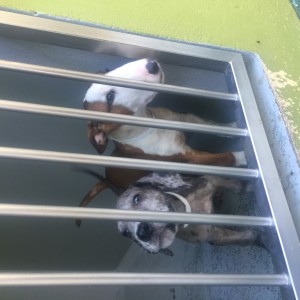 We have been waiting for months to share the story of Cashew, Almond, Hazelnut, Walnut, Target, Alfalfa and Mr. Wrinkles.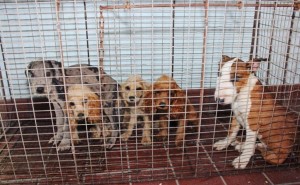 On Sunday October 23rd of 2016 the Coastguard of Aruba detected a suspicious ship on their radar. They sent out a patrol vessel to investigate. The coast guard officials who boarded the ship encountered a variety of (exotic) animals. There were four mini Macaws, one Jaguarundi, one Ocelot, ten toucans, two Tamarind monkeys, four Cocker Spaniels, one Great Dane, one Bull Terrier, one Sharpei and six Tortoises.
The ship, the animals and the other products were confiscated by customs. An official report was made up against the captain, the smugglers were brought in and the animals were brought to the Veterinary Services of Aruba.
The way these animals were shipped and handled was horrible and heartbreaking. Eight of the toucans did not survive the stress of this awful ordeal. All the animals were severely dehydrated and starving.
The exotic animals were protected under CITES, but importing them is not allowed. Veterinary Services made sure that the animals who survived are safe and well taken care of.
Importing pets from South and Middle America is not permitted either. For example Venezuela – where these animals came from – has diseases like rabies and screwworm.
The law is in place in order to protect our island, our animals, our nature and our citizens. Aruba is rabies-free and importing animals illegally could have serious consequences!
There are only a few options when animals are imported illegally:
– They are euthanized after spending 14 days in quarantine.
– They are sent back immediately to the country of departure.
Our island is small and the news about these dogs traveled fast. We decided to offer our help and with the support of the government our foundation 'took them in'.
We were very grateful that the minister decided to give these seven dogs a fighting chance and permitted a longer period of quarantine.
All seven animals had to remain in quarantine, which meant boarded at a veterinary clinic.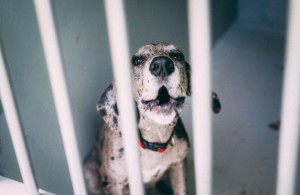 We hope some day justice will prevail and that the smugglers will have to pay back the costs for getting these animals healthy and 'adopted' (only possible should the smugglers have the necessary funds and court decides they have to pay the full amount; this process will likely take 1 to 2 years!). We started a local Generosity compaign to try to get the necessary funding (www.generosity.com/animal-pet-fundraising/saving-seven-lives-in-aruba).
We didn't know what was going to happen with them at this point in their rescue process. We had to take it one day at a time and see how the situation would develop. All we knew was that adoption in Aruba (because of the law) would never be an option, adoption to individuals was not permitted, that they probably had to go back to Venezuela and that they had to remain in quarantine for at least 12-16 weeks!
The dogs were receiving medical treatment and slowly started recovering. Our core team was allowed to visit and even though boarding at the vet is far from ideal, we saw that they were loved and pampered by our veterinary team.
They were doing well, they were recovering and rehabilitating. Then the raining season started and the Parvo-virus became very active. The gentle, sweet and adorable Sharpei named Mr. Wrinkles got sick and despite all efforts he passed away.
Some of the other dogs showed some symptoms as well, but fortunately they recovered and are still doing well. The Great Dane Alfalfa is a mischievous boy and best friends with the Bull Dog Target. The four Cocker Spaniels love each other as well. Cashew is quite shy, but his sisters help him warm up to people, Walnut is a little cautious but oh so loving, dark girl Hazelnut is too adorable and Almond is sweet and a bit naughty. We love them all!
The Veterinary Services were working hard to find a solution. They reached out to rescues in Venezuela to see if they were willing to take our dogs in. One foundation was, but getting them there was a problem. We tried to help, but couldn't find transportation to where they were located. The contact was difficult and slow and there wasn't a lot of progress. So we decided to try something else…
Dayenne and Melanie are in training to become certified Dog Behaviorists with @unitedk9pros and Service Dog Handlers for @merlinskids:
"Merlin's KIDS is a 501(c)-3 non-profit organization dedicated to providing individually trained service dogs to those in need.
Founder and canine expert Janice Wolfe and her dog partner, Wyatt, whose love and passion for humans and animals found a way to make a difference.
Merlin's Kids transforms the lives of dogs by rescuing them from shelters, training them and giving them a very meaningful purpose to their lives. These special dogs in turn help transform the lives of both the children and the adults they serve with a life long commitment to love, care for and assist….
• Children with Autism and other Special Needs
• Veterans that suffer with PTSD
• Firefighters with our Disease Detection Dog program
• Victims of Violence and Abuse with our Courtroom Cortisol Canine Program.
So in essence, the dogs save the kids and the kids save the dogs; It's a match made in heaven."
Janice and Jade came to Aruba in November of 2015 to train our team for a week and to work with Ginger, who was feral and had bitten one of the staff members at the vet (as you probably know she was fully rehabilitated and currently living the happy life in the US). One of our previous rescues, Willow, is already in training with Merlin's Kids and she is working as a therapy dog in a school. They also offer a generous discount to families who adopted from our organization.
We decided to reach out to Janice and told her about these amazing six dogs needing help…
It makes us extremely happy to share with you that Merlin's Kids is willing to take the six dogs in! The government gave their permission, so our dogs have a very promising future and will have an amazing life.
The dogs need to go to the facility in Missouri, where they will be trained to hopefully become service or therapy dogs. This is where we need your help!
WANTED: BOARDING FACILITY IN MIAMI AND/OR A PILOT!
Getting adult dogs of the island is not easy and six dogs is even more difficult. Getting them to Missouri is even a bigger challenge.
From Aruba we can get them to Miami (either with Amerijet as cargo or with volunteers as checked luggage). Then we need:
– A rescue / boarding facility in Miami, ideally also willing to pick them up from the airport, who can take them until they can continue their travel. As you can imagine the costs after months of boarding and treatment are tremendously high and it would be amazing if we can find an organization willing to do this for free.
– Transportation from Miami to Missouri (Columbia or St. Louis), should there be a pilot willing to dedicate his/her time and plane for this great cause, that would be great. Otherwise we will send them as cargo and we will need the help of volunteers and/or the people from the boarding facility to check them in.
– Donations are very much appreciated too!
o Paypal to info@sgtpeppersfriends.com
o The campaign: www.generosity.com/animal-pet-fundraising/saving-seven-lives-in-aruba
Please share on social media and urge your friends to do the same.
"I alone cannot change the world, but I can cast a stone across the waters to create many ripples." – Mother Teresa
By passing it on to your friends who each pass it on, who then pass it on, who then pass it on.. we can give rise to a tsunami of love & compassion for these six dogs and make this possible, TOGETHER WE CAN!!