Hi there! Remember me? It's Aiden J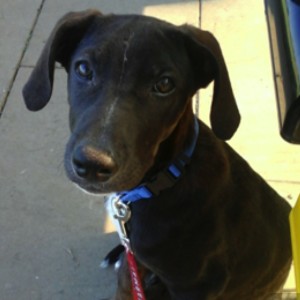 Exactly one month ago, my new chapter in life began when I arrived in the Netherlands. Well, to be honest, my journey began some weeks earlier. It all started the day you guys from Sgt. Pepper's Friends saved me and my little brother Archie from the streets in Aruba. I can't thank you enough for taking care of me, bringing me to the vet, feeding me, walking me, fostering me, socializing me with humans and other animals, and finding me a forever home. I really hope you can save lots and lots of other animals out there because we all deserve a second chance.
"Because when you stop and look around,
this life is pretty amazing"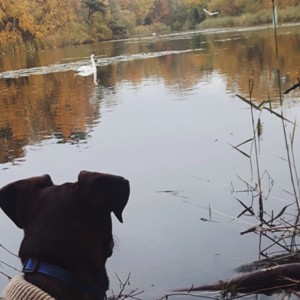 In this PupDate I would like to show you some of my adventures with my new owners Herman & Jill. And oh boy, I already did A LOT of cool stuff! From visiting soccer games, to my first walk in the forest, from stalking my humans everywhere around the house, to meeting horses for the very first time, from stealing Jill's clothes to the time I caught a rat, I will try and tell you everything so far!
But first: some pictures! (Because I'm a real doggie-model J)
I still remember the day I arrived in the Netherlands. I travelled in a crate together with Archie and after hours and hours of flying high in the air, we landed in Amsterdam. This was the place where I met my new owners: Herman & Jill. After saying goodbye to Archie, Jill carried me to their car where I was covered in blankets because it was really rainy and cold that day. The temperatures over here are freezing comparing to those on the island! Once I was all comfortable in the blankets, I fell asleep on Jill's lap and slept the whole ride. (When you see my sleepyhead it's clear that I was exhausted from the long flight and all the chaos on the airport)
After two hours of driving, we finally arrived at the final destination: home. When we got out of the car I saw a big fenced house with lots of space around it. It didn't smell like salt and sea from the beaches in Aruba, but like grass and rain. Weird!! Inside the house, there were lots of rooms to explore. I even showed off my skills when I walked upstairs (Herman and Jill didn't know I could do this and were very impressed ofcourseJ). When I went outside, the sun suddenly begun to shine again, so I ran around in the garden, exploring the grass, trees, bushes and flowers. Next to the garden, I also saw chickens, goats and horses. I couldn't believe my eyes and ran around the house, playing all afternoon!
After running around for some time it was dinner time. I began to feel really tired, so Jill brought me inside to their livingroom and I slept for a while on my brand new doggy pillow. As you can see, it's not only comfortable for puppies, Herman wanted to lay with me on my awesome pillow as well.
(A couple of weeks ago he was able to lay with me, but since he is over two metres tall and I'm growing as well, this doesn't fit anymore J)
Herman is a goalie at the local soccer team. He plays indoors and outdoors. Every Saturday, Jill and I watch his indoor-game. On Sunday, Herman plays outdoors. We always go out and cheer! I'm already their new mascotte!
When I'm not on the soccerfield, I'm busy at home exploring all the rooms. I like to follow my new owners everywhere. And with everywhere, I litterally mean: EVERYWHERE! Especially Jill, she really is my best friend and I see it as my job to guard her around the house. When Herman has to work in the evenings, I even watch her when she's in the bathroom to make sure she's okay! And when she decides to take a shower, I warm up her clothes, or just steal them. (Well, actually I just think I look way better in those PJ's J)
Because of the fact that I like to steal clothes, socks and shoes AND because I was shaking from the cold during the evening-walks; Jill thought it was a good plan to go to the local petshop and buy me my own sweater. Look how handsome I am J. Now I'm not cold anymore when Herman or Jill are walking me. Whenever they walk to the closet and I see my sweater, I will sit down and put my head and paws through it all by myself! I simply rock this outfit!
I can tell that if I have to tell you guys every detail, this PUPdate will be 100 pages so now I'll post a few pictures and tell something in short.
This was my very first time in the forest. I behaved so well and because of the fact that I already learned some of the basics during the puppycourse I've been doing with Jill, I was allowed to run free in the woods! Athough it was raining that day, this experience was amazing!
I forgot to tell you guys that I have one toy in particular which I like best. It's my little monkey. Whenever I am allowed to jump in the car and go and visit places, I bring my monkey with me too. I think he looks a lot like Archie J.
Oh, about Archie! He is not living very far from me so… this week we will be reunited! I really look forward to see him again! He and his new owners will come this Saturday to Jill's house. They already saw my sweater on Snapchat and Sharleen asked Jill if they could go sweater-shopping for Archie this weekend too! We'll look like twins, how fun is that! I will ask Jill to put something on Facebook so you can all see our reunion J
I have to make a confession: sometimes I'm a bad boy J. I killed Yoshi, stole some flowers in the garden, tried to be a gardener to decorate the livingroom with some grass and uhm.. wel.. I brought in a rat's tail, oops!
Luckily for me, I can be a good boy too and Jill & Herman love me anyway J. I'm the sweetest boy when I'm asleep or when I'm awake and I look at everyone with my puppy-eyes, I make Jill's students fall in love with me, even the horses in my neighbourhood are in love with me I guess because it looks like they want to kiss me: BLERGHH!!
Well, as you have read, I'm having a great time over here. I really hope to see you guys again one day to thank you all again in person. Until that time I will keep your team posted!
Please keep doing what you do best:
Saving animals all day, every day!
Lots, lots, lots and LOTS of paws & kisses from your Aruban rescue,
Aiden
P.S. I can still chill over here the way I did on the island J!!!